Oct 1 2012
Why I wrote A Couple's Guide to Happy Retirement: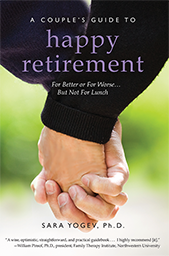 My goal is to help retirees find a way to live together happily ever after, recognizing that how people interpret that phrase may have changed a bit.
Most people are searching for the right mix of money with meaning, of profits with purpose, of using their many experiences in ways that aren't just contained in photo albums but are significant and memorable.
In other words, they seek an intersection of continued income, with purpose and impact, something they will be remembered for.
Sara Yogev, Ph.D.